Maintenance
Care instructions for St-Paul Home

solid

oak

tables
Our furniture is delivered untreated. We leave the decision if and how to treat your table at your discretion. These are normal care treatments and no guarantee against stains. Every stain must be removed immediately.All St-Paul Home furniture is made with solid European oak, type French oak, which contains tannin. This is used in a natural way to give the tables a very beautiful natural color. The oak is selected by us and dried in our ovens during several months. Usually even 6 to 9 months considering the thickness of the St-Paul Home tabletops. Oak is a natural product so little differences in color and measurement are unavoidable. Cracks and knots are a characteristic and essential part of the look and feel and the unique concept of the St-Paul Home Collection. Oak also is a living and porous material which will adapt to the hygroscopic, environmental conditions of its surroundings. This natural process and behavior of the wood is everlasting. De right environment, treatment and care of any piece of the St-Paul Home collection are therefore essential.
For a natural greying look and a table that becomes more beautiful with age and to keep its exclusive, natural look, only use our natural, original Marseille soap on a regular base to protect and clean your table. Refer to the Marseille soap section for maintenance instructions.
To have a neater version of your tabletop and only have little change in the coming years, refer to the Natural Oil Plus section for treatment instructions.
IMPORTANT
Only use the St-Paul Home Original Marseille Soap. It is a 100% natural soap that will not damage the oak. You can also use Marseille soap to clean and protect wooden floors, stone floors, marble tabletops, wooden furniture and much more.
Only use St-Paul Home Oil Plus. It is a 100% VOC free and water based oil, environmentally friendly. It is available in 100ml cans, enough for 1 treatment of a 3m St-Paul Home table.
---
St-Paul Home Original Marseille soap treatment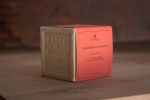 With this treatment the tannin in the oak will gradually come out and your table will become lighter and silver-gray. If the table is outside (only trestle tables), UV-light and rain will speed up this process. It will become silver-grey after several months.
You need however to nourish the wood. By using Original Marseille soap the wood pores will fill up with soap and prevent some stains to penetrate. Stains will still be possible but are easier to remove.
Take a handful of Marseille Soap snippets and dissolve in warm water. Leave for 20 minutes. The water will become milk-color. With a sponge, put it in the soap-water and gently apply to the whole table. DO NOT SCRUB HARD ON ONE SPOT to prevent color differences.
After applying the water will become brownish. This is normal and the natural washing out of tannin. After a few times this will become less. It is perfectly natural.
Please repeat the procedure several times (3 or 4) in the first few days. Do not get the table soaking wet and let the table dry out between the treatments.
After the initial treatments clean your table weekly with the Original Marseille Soap. The table will keep its invisible soap layer and the oak will be nourished and kept in perfect condition.
St-Paul Home natural, Original Marseille Soap is invisible and will protect the natural color and color progress of the table. It will gradually have a very natural and beautiful patine.
---
St-Paul Home Oil Plus treatment
It is advised to first do a small test on a non-visible place.
Oil Plus is a natural hard wax-oil, which will make a molecular binding with the wood fibers. This will ensure a durable protection. The oil will immediately put itself in the top layer of the wood. The wood fiber will only bind a certain amount of oil so unused oil will not bind and can easily be removed.
First make sure your table is clean and dust free. Apply the oil with a fiber free cloth. After applying wait 10 to 15 minutes (maximum) to remove the excess oil with a dry cloth.
After 24 to 36 hours the oil has completely dried out and the table is ready to be used again. It will however take 3 weeks for the oil to be hardened out completely. During this time be extra careful with stains. In the first week only clean the table with a dry cloth. In the second week use a slightly moist cloth (only water) to clean. From week three use of St-Paul Home Original Marseille soap is advised (refer to the Marseille Soap treatment section for instructions).
Cleaning and nourishing the table with Marseille Soap weekly will keep your table in perfect condition.
Depending on the use of the table repeat the Oil Plus treatment every 6 months or every year.
Important: Oil Plus will slightly darken the table